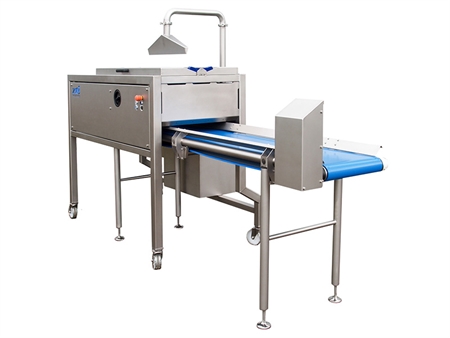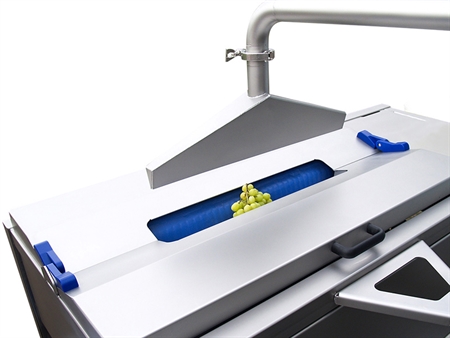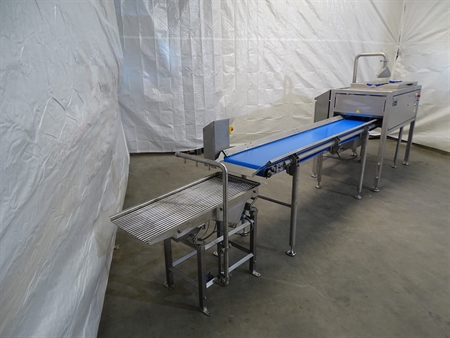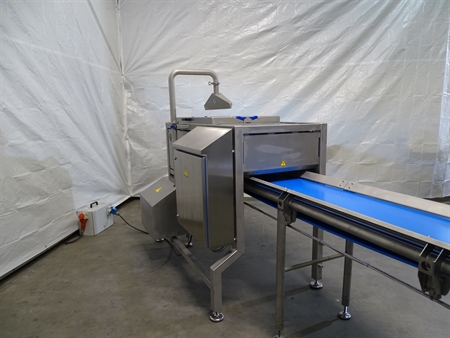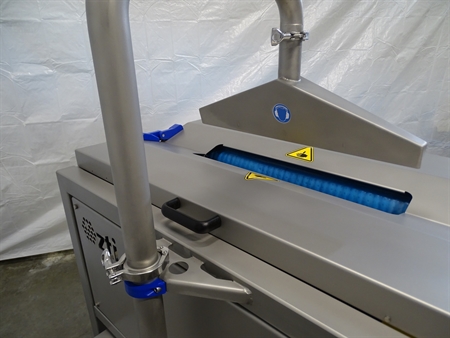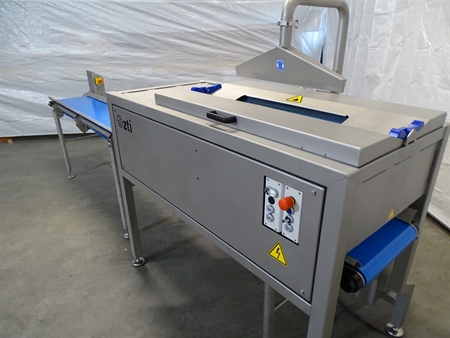 Destemmer
Picking grapes, dates and cherry tomatoes with the destemmer surpasses manual processing. The machine is unique because, like no other comparable machine, it can pick the fruit from the vine with a rotating movement. Which is just how it would happen if picked by hand. The point where the stem meets the fruit thus remains intact, improving shelf life.
Video
Video 2
Specsheet
Rotating movement prevents inadvertant damage to the skin

The vines are fed into the top of the machine. The Destemmer rotates the fruit carefully, releasing them individually from the vine. The soft 'friction pads' in the machine ensure that the fruit cannot be bruised. Once the pieces of fruit have been picked from the vine, they roll along the conveyor belt.
Capacity and availability

Depending on the quality and variety of grape, the Destemmer can process up to around 500 kg per hour. Apart from tablegrapes, the Destemmer can also pick dates and cherry tomatoes. Should you require more information on this, please contact us.
Optionally, the machine can be equipped with supply and discharge belts, a dryer, a washer and a shaker. It is also possible to install a swan neck conveyor and a funnel in front of the Destemmer that feeds the grapes ergonomically into the machine. A volume detection system stops the feed conveyor automatically when it reaches it's capacity.
Features of the Destemmer
Fruit makes rotating movement to prevent damage at the stem
Suitable for tablegrapes, grapes, cherry tomatoes, kiwi berries and dates
Grape-picking capacity: up to 500 kg/hour
Machine dimensions: 1635 x 1117 x 1800 mm (L x W x H)
Conveyor belt dimensions: 4000 x 400 x 900 mm (L x W x H)
Supplied as standard with blow-dry installation
Features of all our fruit-processing machines
Careful treatment and processing improves the shelf life
High processing capacity
Maximum yield per processed product
Equals or betters manual processing
Visually attractive end product
Easy to clean and to service
Meet European guidelines for the food-processing industry in relation to hygiene and safety
Features of all ZTI smart machines
Smart innovations that are distinguished by their simplicity
Simple and safe to operate
Equipped with the latest technology
Optimum balance between 'mechanics' and 'electronics'
Attractive recovery of investment time