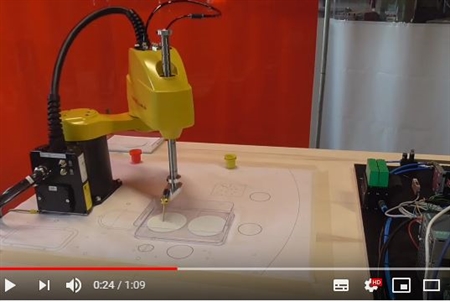 Pick & Place Robot
Robotics and Vision are a logical addition to our smart machines. Certainly within our core business; the mechanization of processes in the food, agriculture and flower industry. This could be in the processing or in the handling and packaging
Video
In order to offer a complete solution, we work with the best suppliers of 'pick-and-place' robots. Advanced robotic systems that fit just fine with the machines we develop. The systems are FDA approved and can (with no additional safety measures) be used in the food processing industry.
A better working environment
A plurality of products is still oriented and manually placed in a machine and / or packaged. That requires manpower and lots of repetitive actions. In combination with vision technique a robot can take over these handlings. That fits very well within the CSR concept of our company.
A few examples;
putting injection molded plastic piling caps of the band into a box
placing in clear plastic wrapped cookies in a food tray
stabbing sticks in a flower pot filled with soil
placing weighed flower bunches onto a conveyor belt
pears or apples orientation and placing it in a bowl or a tray
lifting potted plants from a bin to a transporting band
pineapple orientation and placing into a peeling machine
mango orientation and placing into a peeling machine
What can we do for you? We are happy tot think along for your smart solution.