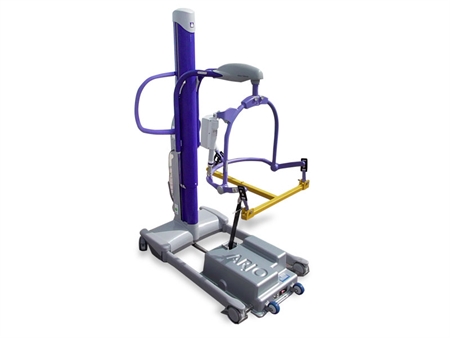 Arjo Huntleigh resident/patient lift
Arjo Huntleigh offers innovative integrated healthcare solutions for patients with impaired mobility and other related conditions. They are one of the world's largest suppliers of passive and active patient transfer solutions. From the busiest hospital to the smallest nursing homes and in patients' homes, caregivers are constantly faced with the risk of crippling back pain and injury due to the manual transferring and handling of clients.
Video
Test procedure
Arjo Huntleigh has developed an extensive test procedure to guarantee the safety of the lifting aids. One of these tests measures the maximum load capacity of a resident/patient lift. This would require a weight to be lifted on site of around 250 kg. Given transport, handling and safety considerations, that is not the best option.
Mobile Patient Lift Testers
ZTI has devised a mobile tool in the form of an actuator. The actuator can simulate the weight to be lifted. The lift aid can be subjected to the required weight of the lifting action with a counterweight that can be adjusted as required. The settings of the Mobile Lift Tester (MLT) can be entered using a laptop connected to the machine. After testing, the program creates a test report, and the patient lift can be modified as required. The MLT is in the form of a trolley and can be used for all such lift aids. All 30 Arjo Huntleigh service vans are equipped with the MLT.