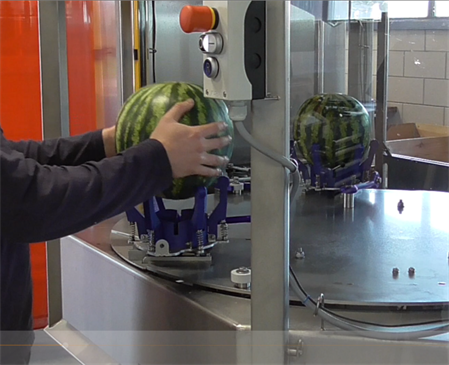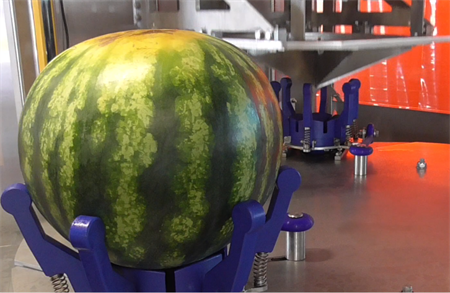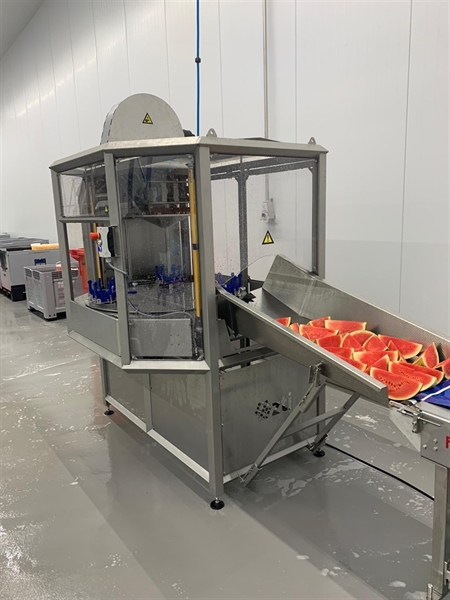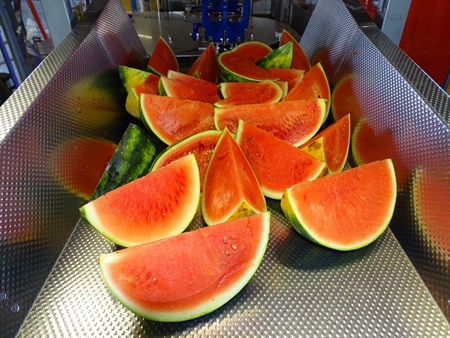 Watermelon Wedger
The Watermelon Wedger cuts a watermelon into equal parts with specially shaped blades. In one quick move in two, four, six or eight wedges. Up to eight melons per minute.
Video
The Watermelon Wedger is equipped with a three-position turntable. The turntable moves the watermelon into the next position during processing. The watermelon is manually placed on the first position. After turning to the second position the melon will be cut into two, four, six or eight equal pieces. After the cutting process, the table turns to the third and last position. Here the melon is gently tilted out of the machine and the wedges slide carefully onto a stainless steel gutter. All operations are performed simultaneously.
The machine operator is protected by a safety light curtain so that the blade cannot be approached during processing. When the light detects an object or a hand, for example, the machine will stop immediately. The rear of the machine is equipped with two security doors that provide maximum access for maintenance and cleaning.
Features of the Watermelon Wedger
Special shaped wedging blade for minimal cutting forces
Easy to operate
Stainless steel motors
Stainless-steel E-cabinet
Machine dimensions: L = x W = x H = 3000 x 1400 x 2550
Speed 8 melons per minute
Max. product diameter 300 mm
Max. power consumption 1kW
Required connection for water and air 6 bar
Features of all our fruit-processing machines
Careful treatment and processing improves the shelf life
High processing capacity
Maximum yield per processed product
Equals or betters manual processing
Attractive end product
Easy to clean and to service
Meets European guidelines for food processing to hygiene and safety
Features of all ZTI smart machines
Smart innovations that are distinguished by their simplicity
Simple and safe to operate
Equipped with the latest technology
Optimum balance between "mechanics" and "electronics"
Attractive return on investment