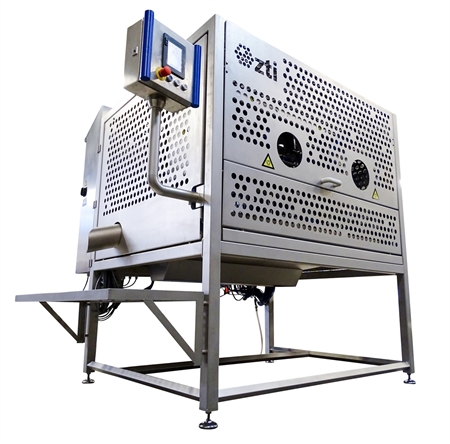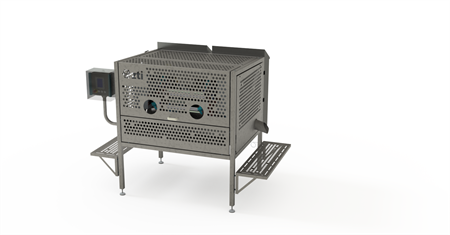 Citrus & Kiwi Peeler
The Citrus & Kiwi Peeler is a fully-automatic peeler, corer, and 'top and tailer'. The machine is suitable for processing oranges, kiwi fruit, apple and grapefruit. The peeling thickness can be adjusted to obtain the maximum yield.
Video
Unique processing method
First, the type of fruit, the average dimensions and the peeling thickness are set via the user-friendly touch screen. After that, the fruit is carefully peeled. The machine can core the fruit and head tales it if desired. It gives the fruit a visually attractive look, ready for further processing.
Adjustable shell thickness for maximum yield
The Citrus & Kiwi Peeler has a unique variable peel thickness mechanism. The peel thickness (thicker at the stem end than at the growing point) can be preset. This prevents too thick a layer from being peeled. The maximum yield can therefore be easily set.
The Citrus Kiwi Peeler also peels an apple very well. In addition, the machine can also be equipped with a gouge. This gouge turns the peel into a long string zest for, for example, the bakery or marmalade industry.
Features of the Citrus & Kiwi Peeler
• Suitable for citrus- and kiwi fruit
• Accurate peeling thickness guarantees maximum yield
• Unique variable peeling thickness mechanism
• Product diameter 60 - 120 mm
• Capacity: 18 products per minute
• Machine dimensions: 2590 x 1677 x 2360 mm (L x W x H)
• Simple to operate and to set (including peeling thickness)
via touch screen


Features of all our fruit-processing machines


• Careful treatment and processing improves the shelf life
• High processing capacity
• Maximum yield per processed product
• Equals or betters manual processing
• Visually attractive end product
• Easy to clean and to service
• Meet European guidelines for the food-processing
industry in relation to hygiene and safety


Features of all ZTI smart machines


• Smart innovations that are distinguished by their simplicity
• Simple and safe to operate
• Equipped with the latest technology
• Optimum balance between 'mechanics' and 'electronics'
• Attractive recovery of investment time