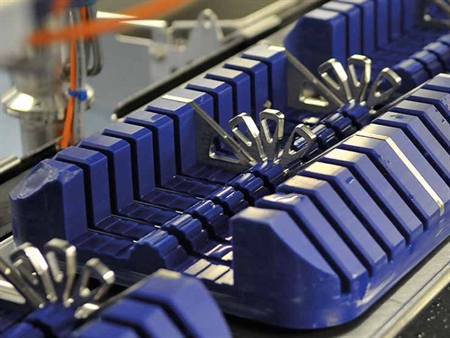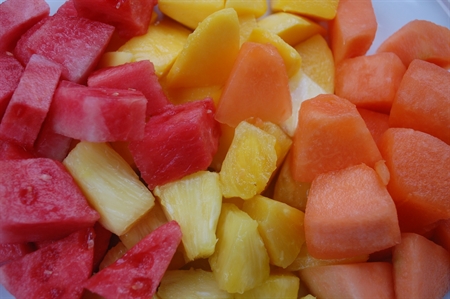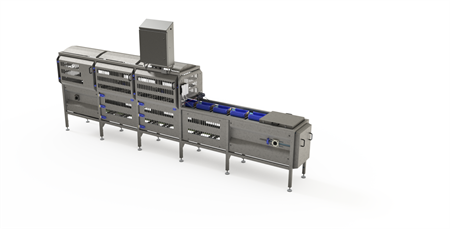 Fruit Cutter
The Fruit Cutter cuts peeled or unpeeled fruit with minimal external force. The machine is suitable for cutting pineapple, melon, kiwi, or peeled mango halves in dices. It is also possible to cut rectangles (fingers).
Video
Cutting rather than pressing
The Fruit Cutter uses a system of rotating blades and avoids forcing or extruding the fruit through blades. The pieces of fruit are laid in a specially developed tray by hand. This tray ensures that the fruit remains in the same position during cutting. Once the fruit is in the tray, it is first cut lengthways. Then the tray rotates, and the fruit is cut across.
Fingers are also possible
One of these cutting movements can also be left out. The fruit can then be cut into fingers. Unpeeled muskmelon is particularly suited to this. And pineapple fingers can also be cut with the Fruit Cutter.
Longer shelf life

The external force that is exerted on the fruit is kept to a minimum due to the cutting action of the rotating blades. No pressure is exerted on the fruit, so it retains more of its juice. Once the fruit has been cut into pieces, the tray is carefully transferred to a conveyor belt. In this way, the cubes of fruit are subject to as little processing damage as possible and are ready to be weighed and packed.
Features of the Fruit Cutter
The fruit is cut with rotating knives
Pieces and fingers can be cut
Rotating blades cut both hard and soft fruit
Limited loss of juice
Capacity: 40 units per minute
Maximum diameter of fruit: 200 mm
Dimensions of finished product: parallel blade 20 - 25 mm/radial blade 5 x 36° or 6 x 30°
Machine dimensions: 5300 x 900 x 2500 mm (L x W x H)
Features of all our fruit-processing machines
Careful treatment and processing improves the shelf life
High processing capacity
Maximum yield per processed product
Equals or betters manual processing
Visually attractive end product
Easy to clean and to service
Meet European guidelines for the food-processing industry in relation to hygiene and safety
Features of all ZTI smart machines
Smart innovations that are distinguished by their simplicity
Simple and safe to operate
Equipped with the latest technology
Optimum balance between 'mechanics' and 'electronics'
Attractive recovery of investment time